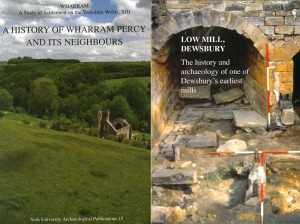 Stuart has the expertise to edit and publish reports on archaeological sites and historic buildings. He has over thirty years' experience of editing and publishing a wide range of archaeological sites covering the prehistoric, Roman, Anglo-Saxon, medieval and post-medieval periods. He has also edited and published work on surviving historic buildings dating from medieval and post-medieval times.
He has overseen the publication of two major monograph series: Yorkshire Archaeology, published by the West Yorkshire Archaeology Service (8 volumes), covering remains from the early prehistoric period to the 17th century, and the series Wharram: a Study of Settlement on the Yorkshire Wolds (also 8 volumes), covering the Iron Age to post-medieval remains at Wharram Percy, North Yorkshire.
Stuart was both editor and principal contributor to the final volume in the Wharram series, published in 2012. It was acclaimed by Professor David Austin, in his review in the journal Medieval Archaeology, as 'a triumph', a 'superbly illustrated and presented volume… stuffed full of very fine scholarship and innovation', and demonstrating 'masterful control of a huge amount of data'.
His publications for wider audiences include a guide book to Kirkstall Abbey's medieval guesthouse which influenced the design of and approach to subsequent guides to medieval abbeys, and an award winning booklet on Low Mill, Dewsbury, a medieval and later mill where the story of its structural remains could be integrated with extensive documentary sources and a range of historic maps.